Dubai, UAE – 24 November 2021. Computer peripherals including keyboards, mice, and webcams are in high demand due to the continued trend of hybrid and remote working. With more hours spent working from home and outside the office, it's vital to have the right technology in place to boost productivity, comfort, and wellbeing. Furthermore, when it comes to online meetings, having the right webcam is essential to good communication and to ensure you look professional, with a sharp image and good quality audio.
With sales season now upon us, and Yellow Friday and Black Friday deals at hand, it's the ideal time to consider upgrading your personal workspace.
Vinod G Nair, Cluster Head – GCC+, Logitech, said: "With hybrid and remote working now the norm for millions of people, there is a growing understanding of the need to use good quality peripherals to maximise productivity and comfort. The region saw a surge in demand for webcams, keyboards and mice after COVID-19 hit, and now we see an ongoing trend of professionals upgrading their equipment with high-end products.
"At Logitech, products are designed to deliver great user experiences and minimize environmental footprint, taking into consideration the environmental and social impacts from the moment raw materials are sourced right through to end-of-life," Nair added.
Professionals looking to upgrade or retool their personal workspace can check out exceptional offers on some of Logitech's latest personal workspace products this Black Friday.
Logitech MX Master 3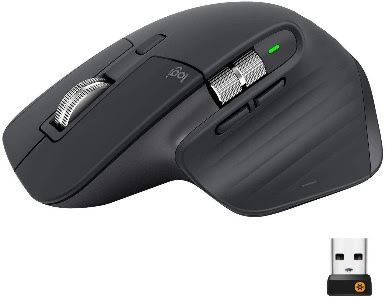 The Logitech MX Master 3 Advanced Wireless Mouse is built with speed and precision in mind and the carefully sculpted shape is comfortable enough for long workdays, supporting your hand and wrist. Profiles for popular software applications are ready out-of-the box, in addition to customization options offered via Logitech Options. The mouse features Logitech MX signature Darkfield 4,000 DPI High Precision sensor that tracks on all surfaces including glass. It also has a rechargeable battery that lasts up to 70 days with a full charge, and a three-minute quick charge gives you a full day of use.
Available at Noon Logitech MX Master 3
MX Keys Advanced Wireless
The Logitech MX Keys Advanced Wireless Illuminated Keyboard brings you a premium typing experience with fluid keystrokes and accurate, tactile responses when keys are depressed. Equipped with smart illumination, the backlighting detects your hands and adjusts keyboard lighting automatically depending on the room lighting condition. It also switches off when it's not in use to save battery power and keep distractions at a minimum. A soft and durable detachable palm rest is also available with the Logitech MX Keys Plus version, bringing extra comfort to the keyboard, if desired.
Available at Noon
Combo Touch for iPad (7-9th Gen)
Logitech Combo Touch Backlit is the ultimate keyboard case with trackpad and Smart Connector for iPad® (7th, 8th & 9th gen), iPad Air® (3rd gen), and iPad Pro® 10.5-inch. Combo Touch combines a precision trackpad with a full-size backlit keyboard for your iPad. Full Multi-Touch gesture support transforms your iPad into a productivity machine for working in spreadsheets and documents, a robust learning tool for remote classes, and more—the possibilities are endless. Combo Touch has four modes to help you get the most from your iPad: Typing Mode, Viewing Mode, Sketching Mode, and Reading Mode, converting the iPad into much than a tablet.
Available at Amazon
Logitech C920S HD Pro Webcam
Logitech C920s delivers remarkably crisp and detailed Full HD video (1080p at 30fps) with a full HD glass lens, 78° field of view, and HD auto light correction—plus dual mics for clear stereo sound. The webcam offers everything you need to look great in conference calls and record polished demos. The attachable privacy shutter protects the lens and keeps your privacy when you need it.
The five-element glass lens captures razor-sharp images and clear colours, while autofocus adjusts smoothly and precisely for consistent definition and fluid video. Flip the privacy shutter closed when you want to be off camera.
Two microphones, one on either side of the camera, capture more realistic sound from a broader range of angles—so your voice comes through sounding natural and clear in conference calls.
Easily create, record, and customize settings with our Capture app. A suite of features lets you fully edit and customize your stream, so you can add transitions and text overlays, customize webcam settings, and more.
Available at Amazon
Logitech MX Anywhere 3 mouse
MX Anywhere 3 gives ultimate versatility with remarkable performance. The compact mouse is designed for mobile work, including the home-office, cafe, or airport lounge. The mouse features MagSpeed Electromagnetic scrolling precise enough to stop on a pixel and fast enough to scroll 1,000 lines in a second. Oh, and it's nearly silent. The wheel's machined steel gives it premium tactility and a dynamic inertia you feel — but don't hear.
MX Anywhere 3 tracks on virtually any surface, including glass, so you can work seamlessly at the desk, at your favourite coffee shop, or even on the couch.
MX Anywhere 3 stays powered for up to 70 days on a full charge – and gets three hours of use from a one-minute quick charge2Battery life may vary based on user and computing conditions. Top up the power with the included USB-C charging cable while using.
MX Anywhere 3 looks, and feels, better than ever. The elegant design features a scroll wheel made of machined steel and grippy silicone side grips for ultimate tactility.