Dubai, July 27, 2021: Garena Free Fire, the world's most downloaded battle royale game on mobile, has crossed 1 billion downloads on Google Play Store.
Garena Free Fire is the first mobile battle royale game to achieve this milestone and joins a small group of mobile games that have done so.
Garena Free Fire celebrates achievement with its global community
To celebrate this accomplishment, Garena will host a special in-game event, which is a token of appreciation towards its global community of users for their continuous support. This in-game event will take place in August in conjunction with Free Fire's 4th anniversary celebrations.

The achievement builds on Garena's Free Fire efforts to offer great content for players
This latest milestone builds on Garena Free Fire's efforts to provide an accessible and enjoyable battle royale experience catered specifically to smartphone users. This includes delivering engaging content for its global community and providing esports platforms for the game's top players to compete in.
It comes after an amazing 2021 so far. During this year alone, Garena Free Fire announced collaborations with popular brands and personalities that resonate with its players, including partnerships with Mohamed Ramadan, McLaren Racing, Street Fighter V, One-Punch Man, and Attack on Titan.
Garena has also focused on hosting regional and international esports tournaments, which continue to provide a platform for the game's top teams and players to enhance their development and compete against the best.
Catch top influencers live at the Free Fire All Stars 2021 EMEA
Garena has also announced the Free Fire All Stars (FFAS) – the game's annual international celebratory event featuring popular influencer and fan-voted players – in three regions – the Americas, Asia, and Europe, Middle East and Africa (EMEA).
The FFAS 2021, being played entirely online between July 30 and August 01, celebrates Free Fire's community of players and content creators worldwide. FFAS 2021 will be the first time that different Free Fire modes will be contested at an international tournament – a request from fans duly delivered! The FFAS is also an opportunity for the game's influencers and content creators to show that they can compete with the best pro players.
Stars line-up revealed
Free Fire fans in the MENA region can look forward to seeing well-renowned individuals during FFAS. Pro players Arfaoui Bilel (VIP-S Remind), the region's best sniper, and Ali Elasali (VIP-S Joke), a talented young player at just 15-years old, will be in action alongside the likes of popular Free Fire influencers Ali Omar, Jamal Abaid (Heroshima YT) and Anas Mahmoud Al3ked Gamer.
"Sharing the FFAS stage with my fellow influencers and pro players that share the same love for Free Fire is nothing less than a privilege. Being a part of and seeing this family grow over the years, exploring and pursuing their talent in gaming, brings me joy and pride, feelings I believe are shared within the community. I just can't wait to see what the future holds for us, but for now, let's have some fun in the FFAS!" said Jamal.
"I cannot wait to engage with this talented pool of individuals on the battlefield as a team or as opponents. I hope we can entertain our viewers with some exciting and entertaining gameplay! I thank Garena for hosting this very special event and for their continued support for us content creators. Such recognition truly means a lot for us," said Anas Mahmoud.
FFAS EMEA broadcast details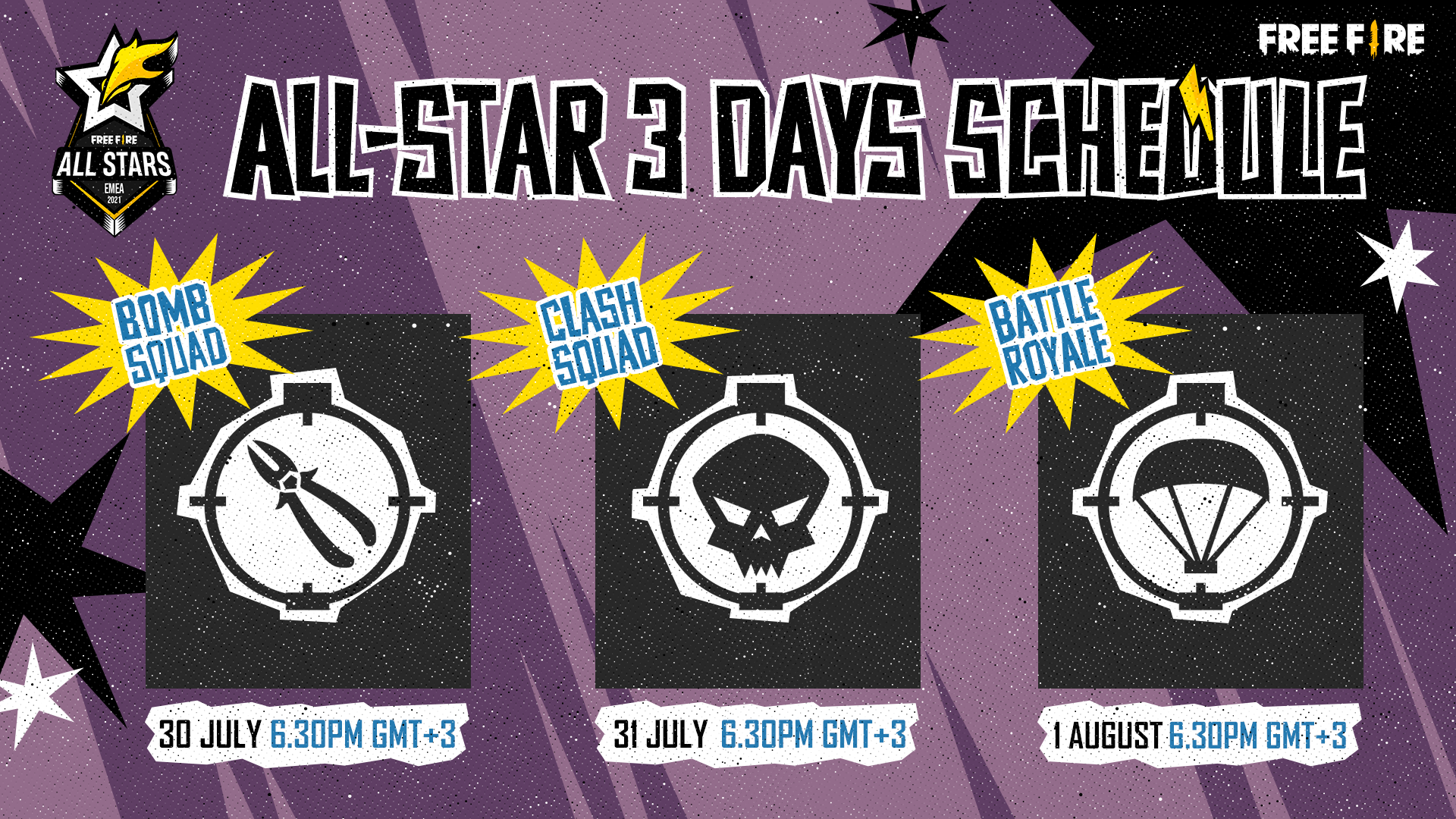 FFAS 2021 EMEA will start from 6.30 pm GMT +3 with Facebook, YouTube, and BOOYAH broadcasting the live action.
Day 1 – on 30 July – will see eight teams battle it out in Bomb Squad. Teams will compete in a single elimination format. The top team from a Best of (BO) 3 maps from the quarters and semis will proceed to the next round, with the finals being decided in a BO5 map.
Day 2 – on 31 July – will have teams competing in Clash Squad. Similar to Day 1, the eight teams will fight it out in a single elimination format: the quarters and semis being BO3 maps, while the finals a BO5 map.
Day 3 – on 01 August – will see the finale of the FFAS 2021 EMEA. 12 teams will be competing in the Battle Royale mode across three maps. Teams will compete in a BO6 format, playing twice across Bermuda, Kalahari, and Purgatory.
The winning team for each day will take home USD $10,000, alongside the title of FFAS 2021 EMEA Bomb Squad, Clash Squad, or Battle Royale champion!